Pictures of Cakes Including This Coke Cake
Ice the cake in white icing making the surface nice and smooth using your cake spatula.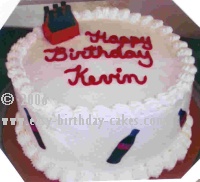 Related Cakes
With white icing and star tip, size #18, make a shell border around the top edge and the bottom of the sides of the cake.
Make a small amount of red icing and use round tip, size #5 and write the birthday message on the top of the cake.
I found a pop bottle case at the craft store in the miniature section and placed this on the top of the cake. I then made copies of a pop bottle picture and laminated them on both sides and cut them out. I used a little bit of white icing to stick them on the sides of the cake.
This could work for any theme cake that you want to make.
Free Newsletter
Sign up for our free newsletter "The Icing on the Cake"