Pink Flower Cake - An Easy Cake to Make
Easy directions for making this pink flower cake:
Bake a round cake the size that you need. With icing filled bag and round tip #5 draw the flower shape on the cake top. Cut the cake away from the flower shape.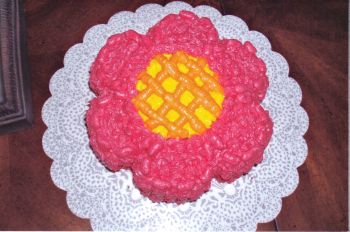 Related Cakes
Make a pink icing and use the star tip #18 and fill in the pink area. Next make a light orange icing and use tip #10 and draw crisscross lines across the center part of the flower.
With a yellow icing and star tip #16 fill in the center part of the flower between the crisscross lines. Note: This cake can be made in any size or color.
Free Newsletter
Sign up for our free newsletter "The Icing on the Cake"