Retirement Cake
Easy directions for making this retirement cake:


Bake a sheet cake the size that you need. Ice the cake with white icing using a cake spatula and making sure that the surface is smooth.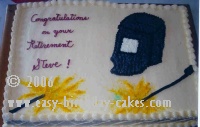 Related Cakes
With an icing filled bag and round tip, size #5, draw a welder's mask on the right side of the cake. Also draw a couple of welding sticks. Leave room on te upper left hand side for the message.
It can be a retirement message or a birthday message.
Use black icing and star tip, size #18 and fill in the black part of the welder's mask. Also fill in the welding sticks.
Use white icing and fill in the window on the welder's mask using the same size star tip.
Make yellow icing and use round tip, size #5 to make sparks lines at the end of the sticks.
Sprinkle edible yellow glitter on the sparks.
Using round tip, size #5 and red icing (or the color of your choice), write the message on the upper left hand side of the cake.
Use white icing and star tip, size #18 and make a shell border around the top edge of the cake and the bottom edge of the sides of the cake.
This cake makes a great retirement cake for a welder. Also make sure to check out this
cake decorating ideas
page for more great cakes that can be used as
retirement cakes
or birthday cakes.
Free Newsletter
Sign up for our free newsletter "The Icing on the Cake"