Making Rubber Ducky Cakes
Easy instructions for making Rubber Ducky Cakes:
Bake a sheet cake the size that you will need. Mark on the cake the duck shape as shown on the picture below. Use a round tip, size #3 or #4 to draw on the cake.
Cut away the cake and put the cut away parts as needed in place with icing.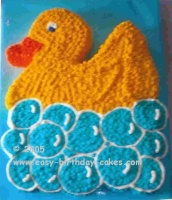 Related Cakes
Using star tip, size #16 or #18, cover the duck's bill with orange icing. Using the same star tip for the rest of the cake, cover they body in yellow icing. The eye is blue and white icing. The bubbles are blue icing.
Using round tip, size #5, outline the bubbles in white icing as shown in the picture above.
These ways will help you make a fantastic looking cake to match your rubber ducky birthday party theme or baby shower theme!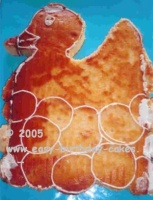 Don't forget the party favors!
These Duck Candy Wrappers can be personalized however you want them and go perfectly with this cake and a rubber ducky party theme.
Share Your Rubber Ducky Cakes!
If you have made a rubber ducky cake that you would like to share, please submit your cake here and let us know how you made it! We would love to feature your cake on our site. Please make sure to include a photo of your cake and a description of how you made it, so that we can all share ideas and learn from each other!
See Rubber Ducky Cakes That Were Submitted By Others To This Site!
Click below to see other rubber ducky cakes from other visitors to this page...

Rubber Ducky Tub Cake Not rated yet
The base of this cake was a 1/2 sheet white cake. The top was made to look like a bathroom floor and the tub was covered in fondant and filled with …
Rubber Ducky Cake Not rated yet
I baked two deep slab cakes for the base and joined them together with a little icing. I used a Wilton Rubber Ducky Cake Pan to make the duck. …
Free Newsletter
Sign up for our free newsletter "The Icing on the Cake"