Sweet Sixteen Cakes - Easy Cakes to Make
Directions for making Sweet Sixteen Cakes:
Bake a sheet cake the size that you need.Place the cake on the cake board. With icing filled bag and round tip #5 draw the #1 and the #6 on the cake top.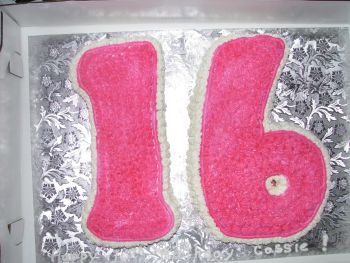 Related Cakes
Cut the cake away from the #16. Make a pink icing and using a round tip #10 outline the one and the six. Use a star tip #18 and the same pink icing, and fill in the one and the six.
With a white icing and tip #18 fill in all the sides of the cake. The girl I made this cake for wanted it plain. You can put a couple of roses at the base of each number to dress it up.
Free Newsletter
Sign up for our free newsletter "The Icing on the Cake"