Tank Cake
by Nancy F
(Raleigh NC)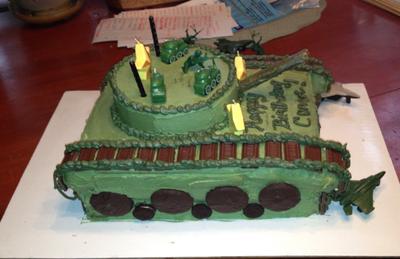 I baked this tank cake for my 8 year old grandson's birthday. I baked a large sheet cake plus a six inch round also. I cut the cake in half with one side being a little larger than the other.


Once I started icing the cake, I stacked the 6 in round on top.
To get the right color green I mixed a little brown in slowly until I achieved the color I wanted.
I also used 2 Twinkie's to form the round wheel area.
After icing the cake, I placed Hershey chocolate bar squares and chocolate tipped Oreo's to make the wheels.
For the gun, I used Pepperidge Farms pirouette rolled wafers.
Must See Pages for this Month!
Free Newsletter
Sign up for our free newsletter "The Icing on the Cake"