Unique Cakes Like This Pizza Cake
Easy instructions for making unique cakes such as this pizza cake:
Bake a cake the size that you need. Using star tip #16 or #18, cover the side and about one inch of the top edge with tan icing. For this cake, I used gel food colors.
Spread white icing with an icing spatula barely overlapping the tan icing on top.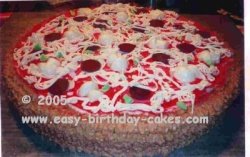 Related Cakes
Spray white icing with red spray food coloring.
The mushrooms are made with white chocolate and a mushroom candy mold.
The pepperoni is chocolate wafers turned upside down and sprayed with red spray food coloring.
The pepper pieces are green chocolate melted and poured on a piece of wax paper and spread thin. When it is set, break up in small pieces and sprinkle on the pizza cake. The onions are done the same way only with white chocolate.
Finally melt white chocolate in a candy bottle and drizzle over the top of the pizza like cheese. You can find the candy bottle in any craft store with the candy supplies.
Share Your Pizza Cake
If you have made a pizza cake for a birthday or other occasion that you would like to share, please submit your cake here and let us know how you made it! We would love to feature your cake on our site. Please make sure to include a photo of your cake and a description of how you made it, so that we can all share ideas and learn from each other!
See Pizza Cakes That Were Submitted By Others To This Site!
Click below to see other pizza birthday cakes from other visitors to this page...

LaRissa's Pizza Cake






To make this pizza cake, I used the Wilton Christmas Tree Pan and one cake mix. Bake according to directions. I iced in buttercream and added the 'toppings' …
Pizza Cake






For this pizza cake, I used a large circle cake pan to make a thin yellow cake. I frosted the top with red frosting and added grated vanilla bark for …
Free Newsletter
Sign up for our free newsletter "The Icing on the Cake"