Volcano Birthday Cake - Simple Instructions
Easy Instructions for making this volcano birthday cake:
Bake one round layer cake the size that you need. To bake the volcano part of the cake I used foil crumpled up and shaped like a volcano , then placed it in a pyrex bowl,point side down, for support. Be sure to spray the foil shape before you pour the batter in it.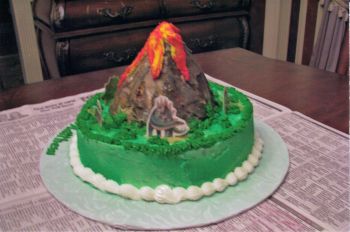 First ice your round layer either in green icing or you can ice it in white icing and then spray it with the color mist food color spray. Make a tan icing and a brown icing.
Related Cakes
Place the volcano in the center of the cake. Ice the volcano in the tan and brown icing, using a cake spatula and blending the two colors.
Make a darker green icing and use tip # 233 make a border of grass around the top edge of the round cake. Also make little random patches of grass on the top and around the bottom edge of the volcano.
The lava is put on using red and yellow icing and a small cake spatula. The dinosaurs are made from stickers placed on card stock, then cut out, and then laminated on both sides and pushed into the cake top around the volcano.
Share Your Volcano Cakes
If you have made a Volcano cake for a birthday or other occasion that you would like to share, please submit your cake here and let us know how you made it! We would love to feature your cake on our site. Please make sure to include a photo of your cake and a description of how you made it, so that we can all share ideas and learn from each other!
See Volcano Cakes That Were Submitted By Others To This Site!
Click below to see other Volcano birthday cakes from other visitors to this page...

Erupting Volcano Cake






My volcano cake was made with two full round cakes, one slightly smaller than the other, and a large chocolate muffin. I placed the smaller circle on …
Volcano Cake With Waterfall Not rated yet
This volcano cake is a 12x18 sheet cake with a corner cut out for the waterfall. The volcano was the mold for a dolls dress and the lava is fondant. I …
Free Newsletter
Sign up for our free newsletter "The Icing on the Cake"