How to Make a Barbie Cake
Easy instructions for making this Barbie cake:
Bake a cake in the Classic Wonder Mold Pan. This pan is the shape of the gown and has a heat core that fits in the middle so that the cake will bake evenly.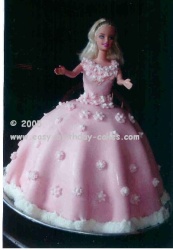 Also bake a ten inch round cake. The reason for this cake is that you are using a Barbie doll in the center and you need the height for the Barbie doll to fit.
Sit the gown cake (from the Classic Wonder Mold) on top of the ten-inch round cake using buttercream icing. Cut away the edges of the ten inch round cake making it even with the gown cake.
Related Cakes
Next, ice the entire gown in buttercream icing. Take small pieces of rolled fondant in the color of your choice and roll it into 7 inch long logs ¾ inch at one end and tapering to a point at the other end. Make ten of these. Place these around the gown pointed tip up. These will form the pleats of the gown skirt of your Barbie cake (refer to the picture.)
Roll a piece of pink rolled fondant big enough to fit over the skirt of the gown. Smooth over pleats. Cut off the bottom of the fondant even with the bottom of the skirt (again refer to the picture.)
Cut a strip of pink rolled fondant for the top of the gown. Apply it the Barbie doll and trim, wetting the back seam with water. Stick the doll into the center of the cake.
The flowers can be made from pink fondant using a small flower press made especially for fondant. Or they can be made with pink buttercream icing and star tip, size #16 and applied straight onto the gown.
Use white icing and round tip, size #3 to make a dot in the center of each flower.
Finally, with white icing and star tip, size #18, using a zig zag motion do the edge of the gown as shown in the picture of the above Barbie cake.
Note: The Barbie cake can also be iced in buttercream icing using star tip, size #16 for the gown. You can cover it completely using the star tip or you can also use rose tip, size #124 to make ruffles or use a combination of both. The ruffles are made by holding an icing filled bag with rose tip touching the surface slightly at an angle and use a zig zag motion as you lengthen the ruffle.
Finally, decorate the gown as you wish. You may want to practice on wax paper first all of the designs that you want, and then make them on the gown.
Don't miss these other popular pages!
Free Newsletter
Sign up for our free newsletter "The Icing on the Cake"