Animal Cakes and Barnyard Cakes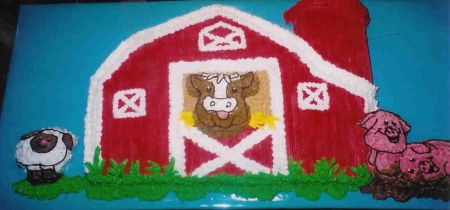 Easy instructions for making animal cakes such as this barnyard cake:
Bake a sheet cake the size that you need. With an icing filled bag and round tip, size #5, draw the barn on the top of the cake. Cut the cake away from the barn outline shape. Use these pieces that you cut away to form the sheep, the cow's head and the two pigs by the sides of the barn. You can of course put whatever types of barnyard animals you would like here. The more the merrier! Remember to use icing between the pieces to hold them together.
Related Cakes
Make a red colored icing and use star tip, size #18 to cover the sides of the barn. Do not cover the side of the barn bottom. Using the same red icing and the basket weave tip, size #48, make lines from the top to the bottom of the barn on the cake top. Fill in the entire barn like this except the top half of the barn door.
Now cover the silo in the same way. When you get to the roof of the silo, you do it the same way except your lines will be going across horizontally.
Use white icing and star tip, size #18 and outline the barn edges and the barn door except across the bottom. Do this again right next to the first outline.
Using the same white icing and tip, put a single row around the windows. Look at the above animal picture of this cake to see what this is referring to.
Free Newsletter
Sign up for our free newsletter "The Icing on the Cake"