How to Make a Barney Birthday Cake
Easy directions for making a Barney birthday cake:
Bake a sheet cake the size that you will need. With an icing filled bag and round tip, size #5, draw Barney's face on the top of the cake.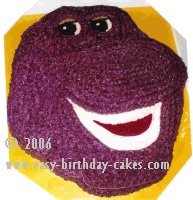 Cut the cake from around the outline of Barney's face that you drew on the top of the cake. Using the pieces that you cut away to make Barney's cheeks fatter.
Related Cakes
You will be using the star tip, size #18 to fill in and cover Barney and the round tip, size #5 to do all of the outline work.
With black icing, fill in the pupils of the eyes.
With white icing, fill in the teeth and the white of the eyes not forgetting to put a small white dot on the black pupils.
Use a tan colored icing for the eyelids.
Use red or pink icing to fill in the mouth.
Next, make a reddish purple icing and cover the rest of Barney's face.
Now do your outline work. Use a round tip, and black icing and make a line between the eyelid and eyes. Now use your purple icing and round tip and outline the entire face of your Barney birthday cake.
Other pages you may like:
Share Your Barney Cakes
If you have made a Barney cake that you would like to share, please submit your cake here and let us know how you made it! We would love to feature your cake on our site. Please make sure to include a photo of your cake and a description of how you made it, so that we can all share ideas and learn from each other!
See Barney Cakes That Were Submitted By Others To This Site!
Click below to see other Barney birthday cakes from other visitors to this page...

Festive Barney Birthday Cake






To achieve Barney's color for this Barney birthday cake, I used the claret coloring, added it to some sugar paste and also added some gum tragacanth so …
Barney the Dinosaur Cake






To make this Barney cake, I used one cake mix prepared according to directions, and a Barney shaped cake pan I found on Ebay. I used buttercream in …
Barney Cake






To make this Barney cake, you will need: 3 cups of plain flour 1 tablespoon baking powder 1 teaspoon soda bicarbonate Sieve these In an electric …
Free Newsletter
Sign up for our free newsletter "The Icing on the Cake"