How to Make a Butterfly Birthday Cake
Easy directions for making this butterfly birthday cake:
Bake a sheet cake the size that you need. With an icing filled bag and round tip, size #5, draw the butterfly on the cake top.
Cut the cake away from the butterfly shape.
You will use the star tip, size #18 to fill in all of the areas on the cake and the round tip, size #5 to do all of the outline work.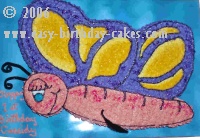 First, make a yellow colored icing and fill in the yellow areas on the butterfly wings.
Now make a purple colored icing and fill in the purple part of the wings.
Now fill in the eye using white icing and then blue icing.
Related Cakes
Make a pink colored icing anf fill in the head and body of the butterfly.
Do a second layer over the eye to form the eyelid.
Use black icing and the round tip to outline the entire butterfly making sure you put lines on the body, eyelashes on the eyelid and the smile.
Now take black pipe cleaners and form the head antenna. Stick them into the side of the head. Cut one section of a puff pipe cleaner and stick it into the top part of the body to form the leg.
With pink icing and round tip, size #5, write the birthday message on the cake board.
Here you can download a pattern for a butterfly cake that you can make. Download the free
Butterfly Cake Pattern
.
See another
Butterfly Cake
or this cute
butterfly birthday cake
that is just the butterfly's face.
Free Newsletter
Sign up for our free newsletter "The Icing on the Cake"