Cake Photos of Sebastian from The Little Mermaid
Easy to follow cake photos and directions for making this Sebastian from The Little Mermaid cake:
Make a sheet cake the size that you need.

With an icing filled bag and round tip, size #5, draw Sebastian on the top of the cake. Cut the cake away from the shape.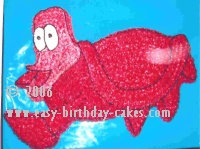 Related Cakes
You will be using star tip, size #18 to cover the cake surface and round tip, size #5 to do all of the outline work.
With white icing, fill in the eyes.
Next, make three different shades of red icing. A light red, a medium red and a darker red.
The head is covered in light red icing.
Use medium red to cover the mouth, back legs and the center of the back shell.
Use darker red to cover the front leg and body border around the back shell.
Use black icing and the round tip to make the small dot in the center of the eyes and to outline the eyes and the entire Sebastian from the little mermaid cake.
If you are unsure where the lines are just check the picture.
Free Newsletter
Sign up for our free newsletter "The Icing on the Cake"