Cartoon Birthday Cake - Buzz Lightyear
Easy instructions for making a cartoon birthday cake such as this Buzz Lightyear cake:
Bake a sheet cake the size that you need. With an icing filled bag and round tip, size #5, draw Buzz Lightyear on your cake top. Cut the cake away from the shape.
Using white buttercream icing and star tip, size #18, fill in the eyes, mouth, white sections on the helmet, globe and the white section on the green part of his suit. (Refer to the picture.)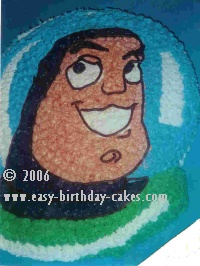 Make a green color icing and using the same size #18 star tip, fill in the green area of Buzz's suit.

Related Cakes
Make a light blue color icing and using the same size #18 star tip, fill in the globe around Buzz Lightyear's head.
Next make a flesh colored icing and use star tip, size #18 to fill in the face. Using very small amounts of orange and red gel food coloring makes the flesh color.
Now, make black icing and using the star tip, size #18, fill in Buzz Lightyear's hood on his head.
Change the star tip to the round tip, size #5 and outline Buzz's face and hood.
Make the pupils in his eyes and make his eyebrows. Don't forget to outline his nose and put curled lines under his mouth.
Don't miss these other popular pages!
Share Your Buzz Lightyear Cake!
If you have made a Buzz Lightyear cake or other cartoon birthday cake that you would like to share, please submit your cake here and let us know how you made it! We would love to feature your cake on our site. Please make sure to include a photo of your cake and a description of how you made it, so that we can all share ideas and learn from each other!
See Buzz Lightyear Cakes or Other Cartoon Birthday Cakes That Were Submitted By Others To This Site!
Click below to see other Buzz Lightyear cakes or other cartoon birthday cakes from other visitors to this page...

Buzz Lightyear Birthday Cake






I made this Buzz Lightyear birthday cake for my son's 4th birthday. It is a two layer cake baked in a 9x12 pan, iced with Wilton's buttercream frosting, …
Buzz Lightyear Cake






To make Buzz, I used a butter cream transfer. I took a coloring page off the internet and enlarged it to fit my cake size. I then attached it to a hard …
Spaceship Buzz Lightyear Cake






To make this spaceship Buzz Lightyear cake, I used one, 2 layer cake mix and a 9x13 pan. I used a spaceship shape, from this site, and by cutting from …
Free Newsletter
Sign up for our free newsletter "The Icing on the Cake"