Purple Fish Child Birthday Cake Recipe

Easy instructions for this purple fish child birthday cake recipe:
Make a round cake the size that you need according to how many people you will be serving your birthday cake to.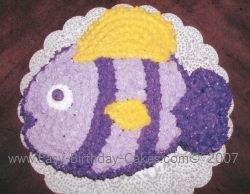 This cake can also be made small for a baby's first birthday as a smash cake (as shown in the picture).
You could also make it larger for everyone to eat. With an icing filled bag and round tip, size #5, draw the fish on the cake surface.
Related Cakes
Cut the cake away from the shape. You will use the star tip, size #18 to do all of the fill in work.
Make a yellow icing and fill in the fish's fins. Next, make a dark purple icing and fill in the stripes, the tail, and the sides of the cake.
Fill in the eye with white icing, then put a dark purple dot in the middle of the eye.
Fill in the rest of the fishes body with light purple icing.
Free Newsletter
Sign up for our free newsletter "The Icing on the Cake"