Children's Birthday Cake Designs
Easy directions for making children's birthday cake designs:
Make a sheet cake the size that you need.
With an icing filled bag and round tip, size #5, draw the outline of the Donkey on the top of the cake.
Cut the cake away from the donkey's shape using the cut pieces to form the ears if you need to.
Make sure you use icing to hold the pieces together.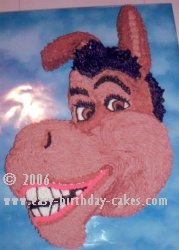 Related Cakes
Use star tip, size #18 to do all of the fill in work and round tip, size #5 to do all of the outline work.
First fill in the teeth with white icing.
Next use pink icing to fill in his lips around his mouth. Now fill in his mouth with a dark brown icing.
Change your tip to the round tip and outline his teeth.
Now fill in the eyes. Fill in the iris with brown icing, the pupil with black icing and the rest of the eye with white icing. Fill in the eyebrows and nostrils with black icing.
Now make a medium brown icing and a light brown icing.
Fill in the darker areas on his face with the medium brown icing and the lighter areas with the light brown icing not forgetting to do his ears.
Fill in the mane on his head and neck with black icing. Use the same tip and icing and go over the mane making short lines and ending in sharp peaks.
This makes it more dimensional. Now take a regular eating fork and blend the browns by making strokes through the icing curving the cheek strokes.
Now to finish him off, use your black icing and round tip, size #5 and outline the eyes. Don't forget to make his eyelashes. Also make small lines on his eyebrows with the points ending at the tops of his eyebrows and a little above.
Free Newsletter
Sign up for our free newsletter "The Icing on the Cake"