How to Make a Clown Cake
Easy instructions for making a clown cake:
Bake a sheet cake the size you will need. Draw the shape of the clown on the cake with an icing filled bag and tip #5. Cut the cake, keeping in mind you will cut two triangles using the two top corners you cut away for the pointed tips of the clown's hair.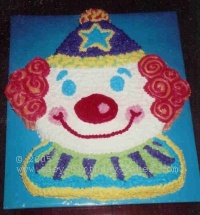 Using star tip #18 fill in star on hat with sky blue icing. You will use star tip #18 to ice the rest of the cake. Edge the star with one row of yellow icing around it. The pom pom on the hat is yellow and dark orange icing intermingled. The brim of the hat is yellow and green icing intermingled.
Related Cakes
The hair is light orange icing with dark orange icing swirled as in the above to make the curls.
Next, you can fill in the hat background with royal blue icing or whatever color you would like.
Next do the eyes and eyebrows in sky blue. The nose in red with pink circle on one side. The cheeks are small pink circles. Fill in the face using very light pink icing. Then put the smile on with red icing.
The collar is done according to the clown cake picture using green, royal blue, sky blue and yellow icing.
Don't forget the party favors!
If you also need party favors, these clown candy bar wrappers make great party favors and go perfectly with this cake. You can personalize them with whatever message you would like. They are easy and inexpensive and kids and adults alike love them!
Share Your Clown Cake
If you have made a clown cake for a birthday or other occasion that you would like to share, please submit your cake here and let us know how you made it! We would love to feature your cake on our site. Please make sure to include a photo of your cake and a description of how you made it, so that we can all share ideas and learn from each other!
See Clown Cakes That Were Submitted By Others To This Site!
Click below to see other clown birthday cakes from other visitors to this page...

Stephen's 3-D Clown Cake






To make this 3D clown cake, I used the ball pan and a 6" round pan for this cake. It took a mix and a 1/2 of another mix. Bake according to directions …
Happy Birthday Clown Cake






This clown cake is made up of 2 layers round shape chocolate cake with cream at the center and put together so that it'll become one 12" round cake. …
Round Clown Cake






To make this clown cake, I used chocolate cake mix and baked two 8 inch cakes. I put them together with butter cream frosting. I frosted all the cake …
Clown Face Cake






The clown cake was an almond tart, turned upside down. Covered with yellow sugar paste to be the face, with black his eyebrows, then cut oval shapes in …
Free Newsletter
Sign up for our free newsletter "The Icing on the Cake"