Child Birthday Cake - Cookie Monster
Easy instructions for making this child birthday cake:
Bake a sheet cake the size that you need for your birthday party.
With an icing filled bag and round tip, size #5, draw Cookie Monster on the cake top.
Cut the cake away from the Cookie Monster shape.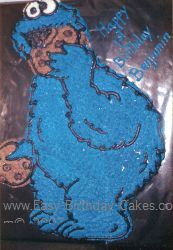 Related Cakes
With round tip, size #7, outline the whole Cookie Monster cake using black icing.
Do not forget the dot in the eyes.
Use star tip, size #18 to do all of the fill in work.
First fill in the chocolate chips of the cookie with dark brown icing.
Next, use a light brown icing for he cookies.
Fill in the eyes with white icing.
Now make a royal blue icing and fill in the body and sides of the birthday cake.
Other pages you might like:
Free Newsletter
Sign up for our free newsletter "The Icing on the Cake"