Curious George Cake
Easy directions for making a Curious George cake for a birthday:
Bake a sheet cake the size that you need.

With an icing filled bag and round tip, size #5, draw Curious George on the cake top. Cut the cake away from the Curious George shape.

If you want to you can use the cut pieces to shape a banana.

If you do this, dont add it to the board until Curious George is all decorated.

You will use the star tip, size #18 to do all of the fill in work and the round tip, size #7 to do all of the outline work.

Use black icing and outline Curious George's face.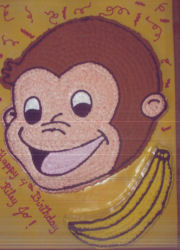 Use white and black icing to fill in his eyes.
Related Cakes
Use black and pink icing to fill in his mouth. Make a flesh color icing to fill in his face and ear.
I use small amounts of red and yellow and keep adding in small amounts until I have the shade I want.
Now fill in the rest of his head with a medium brown icing.
If you do the banana add it to the board now and outline it in black icing and fill it in with a bright yellow icing.
I then wrote my birthday message in red icing and made squiggley lines on the board which was covered in yellow paper and cellophane. This is an easy way to make a Curious George birthday cake.
Free Newsletter
Sign up for our free newsletter "The Icing on the Cake"