How to Make Dog Cakes Such as This Dalmatian Cake
Easy instructions for making dog cakes such as this Dalmatian cake:
Bake a sheet cake the size that you will need. Draw the dog shape on the cake according to the picture using round tip, size #3 or #5.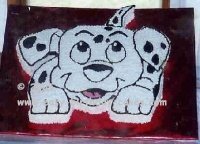 With star tip, size #16 or #18; fill in the tongue with red icing. Next, fill in all of the black areas with black icing and the same star tip. Next, fill in the side and top with white icing.
Related Cakes
Finally, outline the dog with black icing (following the above picture) using round tip, size #5.
Free Newsletter
Sign up for our free newsletter "The Icing on the Cake"