How to Make a Doll Cake
Easy instructions for making this doll cake:
Bake a cake in the wonder mold cake pan or use a metal or glass bowl that is oven proof.
Make pink icing. Put the cake upside down on the board. Insert a doll pick into the center top of the cake.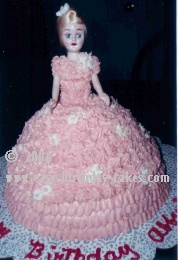 With pink icing and rose tip #124, make a ruffle at the bottom of the gown using a zig zag motion. I made three rows of ruffles. You can make as many as you like. (You may even want to use a smaller size rose tip.)
Related Cakes
Now change the tip to a star tip, size #18 and cover the gown up to the waist of the doll.
Change the tip to a star tip, size #16 and cover the top of the gown making two rows around the neck and shoulders.
Next, with white icing and flower tip, #190, make white flowers right on the gown skirt and shoulder of the gown top. Also put one in the hair of the doll.
Change the tip on your pink icing bag and pipe a dot in the center of each white flower.
Free Newsletter
Sign up for our free newsletter "The Icing on the Cake"