Fancy Nancy Cake - Easy to Follow Directions
Simple d
irections for making this Fancy Nancy cake:
Bake a sheet cake the size that you need. With icing filled bag and round tip # 5 draw the picture on the cake top, or use the parchment paper transfer method. Cut the cake away from the design.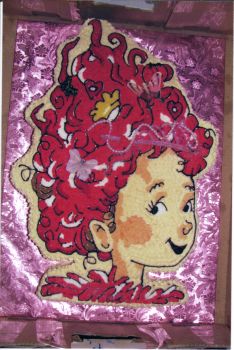 You will use tip #5 to do all the line work and tip #16 to do all the fill in work. Using black icing outline the whole design. Next ,using the picture as a guide fill in the areas of the cake.
Related Cakes
The hair has 2 different shades of red, a dark and a medium shade. there are white and brown accent colors in the hair also. The feathers around the neck are done the same way.
Next fill in the white part of the eyes. The face and neck are filled in with a light and a medium shade of flesh color..Fill in the medium shade first, then the light shade. Next fill in the sides of the cake with white or ivory colored icing.
Free Newsletter
Sign up for our free newsletter "The Icing on the Cake"