High School Musical Cake
Easy instructions for making this High School Musical cake:
Bake a sheet cake the size that you need.
Ice the cake in white buttercream icing making sure it is nice and smooth.
Spray the cake top with red color mist food coloring spray.
Also do the sides fo the cake lightly.
Let it dry completely.
With an icing filled bag, and white icing draw the HIGH SCHOOL MUSICAL on the cake top using the round tip, size #5.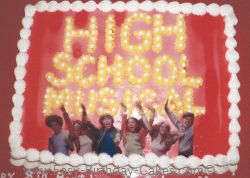 Related Cakes
Make yellow icing and use the star tip, size #18 to do the words High School Musical.
I used white tic tacs for the light bulbs spacing them on the yellow letters pushing them slightly into the icing.
I took a picture of the kids from a poster, enlarged it to the size that I needed and cut it out.
I then laminated it on both sides and ut it again leaving a small laminated edge around the entire picture.
Then lay the picture at the bottom edge of the cake top with the hands etending over the bottom fo the words ("High School Musical").
I used a star tip,s ize #32 and white icing and made a shell border around the top and the bottom edge of the sides fo the cake.
You may also use the star tip, size #18 to make the shell border.
Share Your High School Musical Cakes
If you have made a High School Musical cake that you would like to share, please submit your cake here and let us know how you made it! We would love to feature your cake on our site. Please make sure to include a photo of your cake and a description of how you made it, so that we can all share ideas and learn from each other!
See High School Musical Cakes That Were Submitted By Others To This Site!
Click below to see other High School Musical birthday cakes from other visitors to this page...

High School Musical Cupcakes






To complete the High School Musical Birthday Party. My friend asked me to make cupcakes too. So I bake blueberry cupcakes and decorated them with the …
High School Musical Cookies






Together with team of High School Musical, I made Butter Almond cookies for the party. Hope you all like it. High School Musical: Friends 4 Ever …
High School Musical Birthday Cake






I was pleased to make this High School Musical birthday cake when asked by my friend for her 6 years old daughter. I baked a 9" round cake with 3" thick …
Free Newsletter
Sign up for our free newsletter "The Icing on the Cake"