How to Make Horse Birthday Cakes
Easy directions for making horse birthday cakes:
Bake a sheet cake the size that you need. Ice the cake in white buttercream icing making sure the surface is nice and smooth.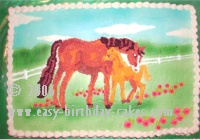 Let it set for about one hour. I then used the parchment paper transfer method to put the horse design on my cake surface. Next cut cloud shapes out of a piece of parchment paper and place them on the cake surface.

Related Cakes
Now you will spray the cake top with the color mist food color spray. Use the blue for the sky and the green for the grass and the trees. Make the area where the trees are darker and the area where the horses are standing darker. You have to let your background dry completely before you proceed.

Remove the parchment paper clouds from the sky. Use a star tip, size #16 to do the mare and colt. The mare is done in three different shades of brown. Her mane and tail in shades of dark brown and black. The nose and the white of the eye is white icing.

The colt is done using the star tip, size #16 and three different shades of golden tan with the tail and mane being a light tan. The eyes on both are done with a round tip, size #5 and dark brown icing. Using the same tip, line the mouth on both and under the chin on the colt in medium brown icing.

The hooves are done in dark brown icing using the star tip. The flowers are done in pnk using the star tip. The center of the flowers are done in a dark pink using the round tip, size #5. Use the leaf tip #352 and green icing and make small leaves by the flowers.

Using the star tip, size #16 and white icing make the rails of the fence first and then the posts. Change the tip to a size #18 star and do a shell border around the cake top edge and side bottom.


Free Newsletter
Sign up for our free newsletter "The Icing on the Cake"