How to Make This Mermaid Cake
Easy instructions for making a mermaid cake:
Bake a round cake the size that you will need. You can make it a single layer cake or a double layer cake. The cake in the picture is a single layer.
Ice the cake in white buttercream icing making the sides and the top of the cake smooth.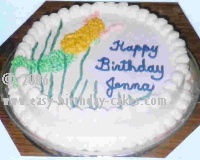 With an icing filled bag and star tip, size #18, make a shell border on the top and bottom of the sides of the cake.
Related Cakes
Change the tip to a round tip, size #5 and draw the mermaid on the cake. This is the back view of a mermaid. For the mermaid, you will be using the #18 size star tip.
The hair is yellow icing. The body is green icing with the tail going over the top edge of the cake and down the side.
The arms are a real light pink icing.
Make a small amount of blue icing and use round tip, size #5 to write the birthday message on the cake top.
Now make a little darker green icing and use leaf tip, size #352 to make the seaweed. Start at the bottom and pull the seaweed up. (Refer to the picture of the mermaid cake).


Free Newsletter
Sign up for our free newsletter "The Icing on the Cake"