Minnie Mouse Theme Cake
Simple instructions for making Minnie Mouse cakes:
Bake a sheet cake the size that you need. With icing filled bag and tip#5 draw Minnie on the cake top. Draw a one or two inch border around the minnie shape. Cut the cake away from the border shape.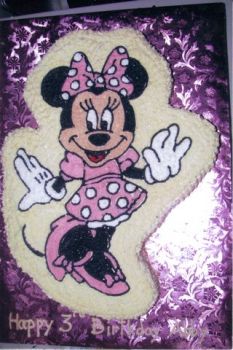 You will use the round tip #7 to do all the outline work and the star tip #16 to do all the fill in work. Make a black icing and outline the entire Minnie. Next fill in all the black areas,the black of the eyes,nose,head,inside of the mouth,arms,legs,and tail.
Related Cakes
Use a white icing and fill in the rest of the eyes, the gloves, the dots on her dress and bow ,and her slip. With red icing fill in her tongue. Make a flesh colored icing and fill in her face.
Now make a pink icing and fill in her bow dress, and shoes. I used ivory icing to fill in the border around Minnie and the sides of the cake.
Free Newsletter
Sign up for our free newsletter "The Icing on the Cake"