How to Make a Monkey Birthday Cake
Bake a square cake the size that you need. Ice the cake in white icing using a cake spatula and making sure the surface is smooth.

Let it set about 15 to 20 minutes to dry.
With an icing filled bag and round tip, size #5, draw the monkey picture on the cake top.
Using green food color spray (also known as color mist) spray the bottom background on the cake top to resemble trees in the background.
Now use a blue food color spray and spray the sky in the background leaving some white areas for the clouds.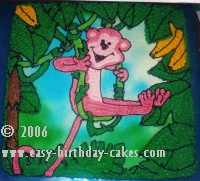 You will be using the star tip, size #18 to do all of the fill in work and the round tip, size #5 to do all of the outline work.
Related Cakes
Fill in the monkey using pink icing and a lighter pink icing.
When making the tail, the curve in his tail near the end is actually on the side of the cake.
Now make a light yellow green colored icing and fill in the main part of the hanging vine.
Make green icing a fill in the vines that wrap around the yellow green vine.
Fill in all the leaves around the picture including the sides of the cake with the same green icing.
Fill in the bananas with yellow icing and the tree trunk in medium brown icing.
Now make black icing and use the round tip to outline the entire picture making sure you do the monkey face.
Use the star tip to fill in the monkey's mouth.
Here is another monkey cake.

Free Newsletter
Sign up for our free newsletter "The Icing on the Cake"