Monsters vs Aliens Cake
Easy instructions
for making this monsters vs aliens cake:
Bake a sheet cake the size that you need. You can use the parchment paper transfer method to put the design on the cake or use an icing filled bag and tip #5 to draw the design on the cake top. Cut the cake away from the shape.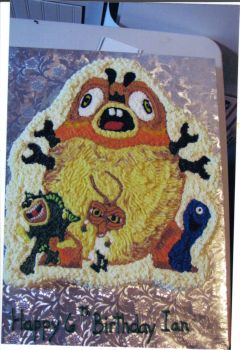 You will be using the round tip #5 to do all the outline work and the tip #16 to do all the fill in work. First do the three smaller monsters in front of the cockroach. You will outline the areas first and then fill them in.
Related Cakes
The green monster is done in a light an a darker shades of green The feet are done in yellow and the outside area of the mouth. Then use a light tan next to the yellow of the mouth area.
The teeth are done in white , the tongue is red and the inside of the mouth is black. The eyes are White with a black center. The monster in the middle is wearing a white lab coat. His face is done in a golden brown and features outlined in a medium brown.
The same colors are used on his wrists. His gloves and legs,and feet are done in black. His eyes are white with the pupils being yellow and black centers. The third monster in front on the monsters vs aliens cake is outlined in dark blue and filled in with medium blue.
The mouth is black and the eye is white with a black center. Now do the giant cockroach. The inside of his mouth is black, tongue red and teeth white. A yellow area surrounds the mouth.
The eyes are white with the pupils outlined in black and filled in with yellow with a black dot in the center.Next fill in all the black areas after you have outlined them first in black, arms ,antenna, and nose.
Fill in around the eyes with a medium brown,also the shaded areas on his feet. With a medium orange fill in the area below the mouth and the rest of the feet.Now use a light golden yellow and a tan icing and fill in the tummy.
Now take a eating fork and starting at the outside of the belly make short strokes to resemble hair. Work your way to the center of his belly. Now use an ivory or white icing and fill in the areas around the monsters and the sides of the cake also. Now you are done with your Monsters vs Aliens Cake!
Free Newsletter
Sign up for our free newsletter "The Icing on the Cake"