How to Make this My Doggie Cake
Easy instructions for making a my doggie cake:
Bake a sheet cake the size that you need. Ice the cake in white icing, making sure it's nice and smooth. Let it set at least a half hour.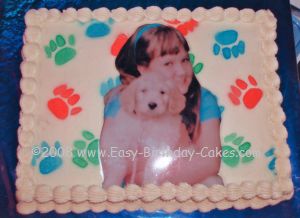 I then made a stencil of a paw print using an 8"X11" piece of acrylic paper. Make sure you draw the paw print in the center of the acrylic. Then cut it out for your stencil.
Related Cakes
Lay your stencil on the cake to where ever you want a paw print and spray the paw prints with the color food spray of your choice.
While this is drying I do my picture, which I enlarged to the size I wanted then cut it out. I then laminated it on both sides and cut it again, leaving a small laminated edge around the entire picture.
Place the picture on the cake top. Using white icing and star tip #32, make a shell border around the top and bottom edges of the sides on the cake.
Free Newsletter
Sign up for our free newsletter "The Icing on the Cake"