Make this Finding Nemo Cake
Easy instructions for making a Nemo Cake:
Bake a sheet cake the size that you will need. Using a #3 or #5 round tip, draw on your cake with icing using the above picture or any Nemo picture as a guideline. The easy thing about using this method, is that you can scrape the icing off and redo it as many times as you would like until you are satified with it.
After you have all of the markings on your cake, cut away the outline so that you have nemo's shape.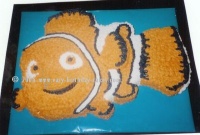 Related Cakes
Next, using a star tip #16 or #18, cover the areas that will be white first with white icing, then the areas that will be orange with orange icing.
Next, using the #16 star tip, ice the mouth with black icing.
Finally, change to tip #5 round and do the outline markings with the black icing using the picture as a guide.
A birthday message can be written underneath the nemo cake on the cake board using round tip #3 or #5 and whatever color icing you would like.
Share Your Nemo Cake
If you have made a Nemo cake that you would like to share, please submit your cake here and let us know how you made it! We would love to feature your cake on our site. Please make sure to include a photo of your cake and a description of how you made it, so that we can all share ideas and learn from each other!
See Nemo Cakes That Were Submitted By Others To This Site!
Click below to see other Nemo birthday cakes from other visitors to this page...

Finding Nemo Birthday Cake






This Finding Nemo birthday cake I decorated for my friend's daughter's 3rd birthday. My friend made the cake, just yellow cake in a 13X9 pan. I used vanilla …
Nemo Birthday Cake






To make this Nemo birthday cake, I just used a chocolate cake and covered it completely in light blue frosting. Then I traced out Nemo from a coloring …
Finding Nemo Cake





I just used the normal moist chocolate cake recipe, and used custard icing and then coloured sprinkles to decorate. "11"" x 14"" Finding Nemo …
Free Newsletter
Sign up for our free newsletter "The Icing on the Cake"