How to Make This Ninja Turtle Cake
Easy directions for making this ninja turtle cake:
Bake a sheet cake the size that you need. Ice the cake using white icing making sure that the top is smooth.
Use yellow colored food spray (color mist) and cover the cake top and sides. Let it dry completely.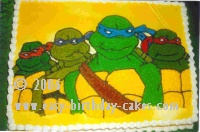 Related Cakes
With an icing filled bag and round tip, size #5, draw the turtles on the cake surface.
You can use the parchment paper transfer method found in the Birthday Cake Design tips page I you wish.
You will use the star tip, size #18 to do all of the fill in work and round tip, size #5 to do the outline work.
First fill in the front turtle's chest strap.
Next use yellow icing and fill in all the turtle's bellies.
Starting from the left to the right, fill in the first turtle's orange mask and blue green body. The second turtle has a purple mask and yellow green body. The third turtle has a blue mask and a Kelly green body and the fourth turtle has a red mask and a dark green body.
Outline all of the turtles using black icing.
Now with your white icing and the same size star tip, make a shell border on the top and bottom edges of the sides of the cake.



Free Newsletter
Sign up for our free newsletter "The Icing on the Cake"