Olivia The Pig Cake
Easy instructions for making this Olivia The Pig Cake:
Bake a sheet cake the size that you need. With icing filled bag and round tip #5 draw Olivia on the cake top. Cut the cake away from Olivia's shape.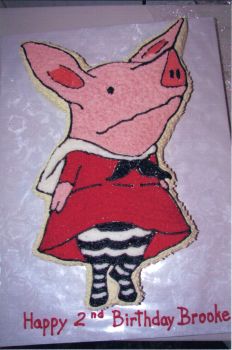 Related Cakes
You will be using the round tip #5 to do all the outline work and the star tip #16 to do all the fill in work. First, using a black icing outline all of Olivia. Using the same icing fill in the bow and the stripes on her tights.
Next use white icing and fill in white on her tights and and the sailor collar of her dress. With red icing fill in her dress. Make a light pink and a medium pink icing.
Fill in the nose and the ear areas with the medium pink and the rest of her face and hands with the light pink icing. The message is written on the board with the red icing.
Free Newsletter
Sign up for our free newsletter "The Icing on the Cake"