How to Make a Penguin Cake from Happy Feet for your Child's Birthday
Easy directions for making a penguin cake from Happy Feet:
Bake a sheet cake the size that you need.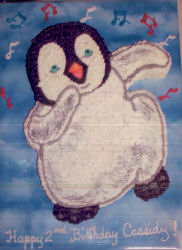 With an icing filled bag and round tip, size #5, draw the penguin from Happy Feet on the cake top. Cut the cake away from the shape of the penguin.

Related Cakes
You will use the round tip, size #5 for your outline work and the star tip, size #18 for the fill in work. Using a dark orange icing and the round tip, outline the beak. Fill in the beak with a light orange icing.

Next fill in the eyes with a sky blue icing. Using black icing, outline around his face and feet. Fill in the black areas.

Now make a gray icing and outline the rest of Happy Feet making sure not to forget his chin and the line under his eyes.

Change to the star tip and do his toes on each foot and a few dots along the areas of his body where it is shaded. Now fill in the rest of his body with white icing.

Take a regular fork and blend the gray areas of his body only. With the black icing and the round tip, put a dot at the top of each blue eye.

Using red, white, and blue icing and the round tip, make musical notes on the cake board around the top half of Happy Feet.

Write your birthday message right below the penguin.

Free Newsletter
Sign up for our free newsletter "The Icing on the Cake"