Pictures of Birthday Cakes
Pictures of birthday cakes such as this beer mug cake:
Bake a sheet cake the size that you need.
With an icing filled bag and round tip, size #5, draw a beer mug on the cake top.
Cut the cake away from the mug shape. You can use cut pieces if necessary to make the handle.
You will use a star tip, size #18 to do all of the fill in work and a round tip, size #5 for all of the outline work.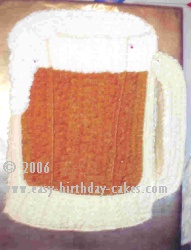 Related Cakes
First fill in the beer part of the mug.Use a golden brown icing to do this.
Next fill in the glass part of the mug and the handle with ivory icing. (Note: do the inside part of the handle with a small cake spatula smoothing it as much as you can because this area is hard to reach with a star tip.)
Now fill in the foam with white icing putting a couple of layers on the part that overflows the mug.
Outline the mug using the ivory colored icing.
Make the lines on the beer part with the golden brown icing.
Refer to the picture if necessary.
See more great
birthday cake pictures
with pictures and instruction of how to make them!
Share Your Beer Cake
If you have made a beer themed cake for a birthday or other occasion that you would like to share, please submit your cake here and let us know how you made it! We would love to feature your cake on our site. Please make sure to include a photo of your cake and a description of how you made it, so that we can all share ideas and learn from each other!
See Beer Cakes That Were Submitted By Others To This Site!
Click below to see other beer themed birthday cakes from other visitors to this page...

Free Newsletter
Sign up for our free newsletter "The Icing on the Cake"