Princess Belle Cakes - Simple Instructions
Easy to follow instructions for making Princess Belle cakes:
Bake a sheet cake the size that you need. With an icing filled bag and tip #5 draw Belle on the cake top. Cut the cake away from the shape.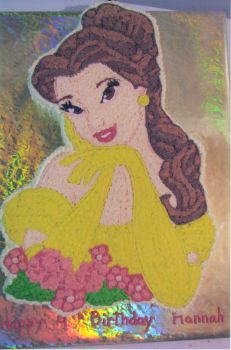 You will be using a round tip #5 to do all the outline work and the star tip #16 to do all the fill in work. Make a flesh colored icing and a smaller amount of a darker flesh color.
Related Cakes
Use the darker flesh color to do the outline of all the flesh flesh areas. Next outline the pupil of the eyes in a medium brown and fill them in with the same color.
Outline the bottom of the eye with the darker flesh and the top of the eye with black icing. Outline the eyebrows in medium brown icing. Outline the lips in a dark pink and fill them in with a pink icing.
Now fill in all the flesh areas with flesh colored icing. With the black icing make the eyelashes along the top line of the eye. Make a brown icing and a dark brown icing.
First outline the hair and the lines in the hair with dark brown icing. Then fill in the hair area with the dark icing and the brown icing.
Make a yellow icing and outline the gloves,gown,and earring. Fill them in with the same yellow icing. Outline the flowers in dark pink an some in pink. Fill them in with the opposite pink that they are outlined with.
The leaves are outlined in green icing and then filled in with the same green icing. The message is written on the board with the #5 tip and the dark pink icing.
Free Newsletter
Sign up for our free newsletter "The Icing on the Cake"