How to Make a Shrek Cake
Easy directions for making this Shrek cake: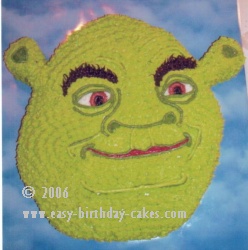 Related Cakes
Bake a round cake the size that you need. With an icing filled bag and round tip, size #5, draw Shrek on the top of the cake. Cut the cake away from the outline of Shrek. Use the cut pieces to form the ears. Use icing to hold the pieces together.
Use star tip, size #18 to do all of the fill in work and round tip, size #5 to do all of the outline work.
Make a yellow green icing. Take a small amount of the yellow green icing and add a tiny bit of black gel color to make it darker. Then use the darker yellow green icing and round tip, size #5 and do all of the routine work on the eyes, nose, mouth and ears.
Change the tip to a star tip and fill i the center of his ears and his nostrils. Now do his eyes. Fill in the iris with brown icing, the pupil with black icing, and the rest of the eye with white icing.
Now use a dark brown icing and fill in his eyebrows. Change to a light red icing and fill in his lip. Fill in the rest of his face with the yellow green icing.
Now change your tip to a round tip and make the two lines from his nose to his lip, the line on his chin around the ends of his smile on his cheeks and the lines above his eyebrows.
Use your dark yellow green icing and outline again around his eyes, ears, nose and mouth.
Now use your dark brown icing and round tip and make small lines on his eyebrows with the points ending at the tops of his eyebrows and a little bit above to make his eyebrows look bushy and complete your Shrek cake.
This Shrek birthday cake is perfect for any child who is a fan of the Shrek movies.
Share Your Shrek Themed Birthday Cakes
If you have made a Shrek themed birthday cake that you would like to share, please submit your cake here and let us know how you made it! We would love to feature your cake on our site. Please make sure to include a photo of your cake and a description of how you made it, so that we can all share ideas and learn from each other!
See Shrek Themed Cakes That Were Submitted By Others To This Site!
Click below to see other Shrek themed birthday cakes from other visitors to this page...

Shrek's Swamp Cake






The tree trunk, stones, signs and outhouse are made of gumpaste. The cattails are on florist wire. There ar fondant waterlillies in the piping colored …
Shrek Birthday Cake






I first traced a photo onto wax paper. Next, I traced the tracing with decorators icing color. Then carefully pushed the tracing on top of the …
Bens Shrek Cake






This Shrek cake is our first attempt at making a cake for Ben. We are very pleased with the out come of the cake. First we made 2 round cakes, then …
Free Newsletter
Sign up for our free newsletter "The Icing on the Cake"