How to Make a Spiderman Cake
Easy instructions for making this Spiderman cake: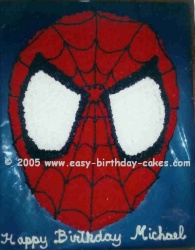 Bake a sheet cake the size that you need. With an icing filled bag and round tip, size #5, draw the shape of Spiderman's face on the cake. Cut away the cake from the outline of Spiderman's face.
Draw the outline of the eyes on the cake. With white icing and star tip, size #18, fill in the eyes. With the same size star tip and black icing, do the outline around the eyes referring to the picture for shaping.

Related Cakes
Use black icing and round tip, size #5 to draw a spider wed over the red face with the center of the web starting between the eyes as shown on the above picture.
If you prefer you can use a specially shaped cake pan to make your cake rather than cutting out the shape yourself, there is a Spiderman cake pan that you could use instead.
Don't miss these other awesome pages!
Share Your Spiderman Cake
If you have made a Spiderman cake that you would like to share, please submit your cake here and let us know how you made it! We would love to feature your cake on our site. Please make sure to include a photo of your cake and a description of how you made it, so that we can all share ideas and learn from each other!
See Spiderman Cakes That Were Submitted By Others To This Site!
Click below to see other Spiderman birthday cakes from other visitors to this page...

Round Spiderman Cake






This Spiderman cake I made for my son john lucas for his 9th birthday. Actually our theme was Spiderman vs Batman and later I'm going to upload the Batman …
Homemade Spiderman Cake






Homemade Spiderman Cake This Spiderman Cake was incredibly easy to make and very effective! It was the first time I had used Royal Icing to make a "run-out" …
Spiderman Cake by Atinuke Olusanya






The cake for this Spiderman cake is a 12 inches circle shape covered with white fondant and taped at the front with red fondant for writing. The Spiderman …
Round Spiderman Cake






This Spiderman cake is very simple to do, no carving, no cutting, it just needs some patience to decorate it!!! For the base I used a 23cm chocolate …
Spider Man Head Cake






For this Spider Man Cake, I used a sponge cake and a oval pan with red icing, licorice and a little rtr icing with black coloring in just put it all together …
Spider Man Cake






For this Spider Man cake, I used the chocolate transfer method that I shared before. It is very easy but hard to explain because it involved a few steps. …
Spiderman Birthday Cake






This Spiderman birthday cake is 1 Kg chocolate sponge cake. I got the design in the net and transfer it onto the cake by tracing it on a grease paper …
Spider Man Cake






This spider man cake was a difficult cake to make. I used the 1-2-3-4 yellow cake recipe. My nephew had a design of spider man on his shirt. I used …
Free Newsletter
Sign up for our free newsletter "The Icing on the Cake"