How to Make a Strawberry Shortcake Cake
Easy instructions for making a Strawberry Shortcake cake:
Bake a sheet cake the size you need. Draw Strawberry Shortcake on the cake using an icing filled bag and tip #3 or #5. Use the above picture as a guide. Cut the cake around the outline until you have your shape. You can use the cut off pieces to extend the sides of the hat.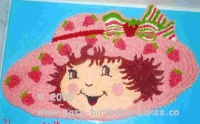 Using star tip #18, do strawberries on the hat using dark pink icing. Strawberry tops are three small drags done with green icing and the same size tip.
Related Cakes
Next do bow according to the picture using green, white and dark pink icing. The center of the bow is a strawberry done in red icing with four small drags of green icing on top. Put black icing dots on the strawberry using round tip #5. Fill in the hat with lighter pink icing.
Next do the eyes using white, brown and black icing. Outline in black icing using round tip #5. Do the mouth in black and red icing according to the picture. Outline the nose with black icing. Fill in the face with flesh colored icing (small amount of orange and red gel colors added to white icing).
Next put three eyelashes on each eye at the top according to the picture using round tip #5. Hair is done with star tip #18 using brown icing with a little bit of red added to it. Starting at the bottom of the hair drag hair strands according to the picture and lift up a bit as you release the pressure on your icing bag.
---
Don't forget the party favors!
These Pink Heart Candy Wrappers will go perfectly with the strawberry shortcake party theme and this cake. You can personalize them however you would like. A good idea is to put the age of the birthday girl in the hearts.


Share Your Strawberry Shortcake Cake
If you have made a Strawberry Shortcake cake for a birthday or other occasion that you would like to share, please submit your cake here and let us know how you made it! We would love to feature your cake on our site. Please make sure to include a photo of your cake and a description of how you made it, so that we can all share ideas and learn from each other!
See Strawberry Shortcake Cakes That Were Submitted By Others To This Site!
Click below to see other Strawberry Shortcake cakes from other visitors to this page...

Free Newsletter
Sign up for our free newsletter "The Icing on the Cake"