Thumbelina Cake - An Easy Cake to Make
Instructions
for making this Thumbelina cake:
Bake a sheet cake the size that you need.With an icing filled bag and round tip #5 draw thumbelina sitting in the middle of the flower on the top of the cake. Cut the cake away from the shape.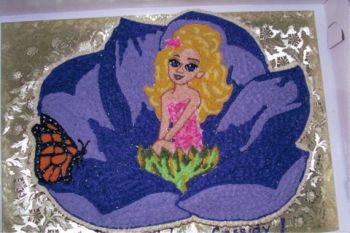 You will use a round tip #5 to do all the outline work and the star tip # 16 to do all the fill in work. Outline the hair in medium golden yellow . Fill it in with light golden yellow and medium golden yellow.
Related Cakes
Next do the face.The eyes are outlined in black and filled in with blue ,black and white. The lips are done in red and the eyebrows are a medium brown. Outline the skin areas in a light brown.
Fill in with a flesh color that can be made by adding a tiny ,tiny bit of yellow and red to white icing. The dress and bow in her hair are pink icing. You may ,if you like, sprinkle pink edible glitter over the pink icing.
The center of the flower is outlined in dark green and filled in with light and dark green and medium golden yellow. Next do the butterfly.Outline the butterfly in black filling in his body and wider strips of his wings.
Fill in the orange areas of the wings.Now do the flower. Each petal is outlined in dark purple and filled in with light and dark purple. Finally, put the white dots on the black part of the butterfly.
Free Newsletter
Sign up for our free newsletter "The Icing on the Cake"