A Unicorn Cake For Kids Birthdays
Easy directions for making this unicorn cake: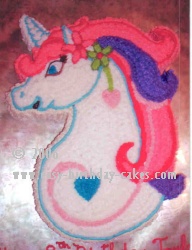 Bake a sheet cake the size that you need. You can use your own cake recipe for this unicorn cake or try one of our chocolate cake recipes that are found under Cake Recipes.
With an icing filled bag and round tip, size #5, draw the unicorn on the cake surface. Cut the cake away from the unicorn shape.
Related Cakes
You will use the star tip, size #18 to do all of the fill in work and the round tip, size #5 to do all of the outline work.
Make three different shades of pink icing. Make a light pink, a medium pink and a darker pink.
With the light pink icing, fill in the small light pink part of the mane and the line from it that curves down and around to hod the blue heart. Also fill in the light pink heart that hangs from the green flower.
With the darker pink icing, outline the flower and the pink manes. Change the tip to the star tip and fill in the center of the flowers and along parts of the pink manes.
Fill in the rest of the pink manes with medium pink icing, also the flower petals.
Now make a small amount of yellow green icing and a darker yellow green icing. Outline the green flower with darker green icing. Fill in the petals with yellow green icing and also the green line that holds the light pink heart.
Make a small amount of sky blue icing and fill in the blue heart and the blue of the eye.
Make a medium purple icing and outline the purple manes. Change to a star tip and fill them in.
Now make a light royal blue icing and outline the rest of the unicorn. Fill in the eye with white icing and the rest of the unicorn's head, ear, horn and body.
Outline the bottom line of the eye with light brown icing. Use black icing and outline the top of the eye. Also make the eyelashes at the corner of the eye. To finish your unicorn birthday cake, make a dot to fill the mouth area.
Free Newsletter
Sign up for our free newsletter "The Icing on the Cake"