Wiggles Cake Decoration
Easy to follow direction for this Wiggles cake decoration:
Bake a square cake the size that you need.
With an icing filled bag and round tip, size #5, draw the Wiggles and the big red car picture on the cake top.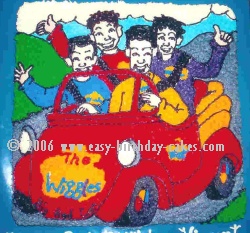 Related Cakes
You will be using a star tip, size #16 to do all of the fill in work and a round tip, size #4 to do all of the outline work on the birthday cake.
All the skin on the Wiggles is filled in with a flesh colored icing. Their shirts are filled in as follows: a purple one, a red one, a blue one and a yellow one. The emblem on their shirts is a yellow shape with a blue line through it, all done with the star tip. Fill in the emblems on the car in the same manner using yellow, blue and red on the car door emblem and yellow, blue red and purple on the emblem on the hood of the car.
The tires on the car are filled in with black with hubcaps done in yellow, blue purple and red.
The headlights are white and black.
The folded convertible top is yellow.
Fill in the rest of the car in red.
The road is a medium gray, the hills are green, the sky is blue and the clouds are white.
Use black icing and outline the entire picture on the Wiggles cake decoration.
Here is another Wiggles cake decoration idea.



Free Newsletter
Sign up for our free newsletter "The Icing on the Cake"