How to Make a Dinosaur Cake
View all of the Dinosaurs, Reptiles & Frogs
Click Here to Launch the Slideshow or click on any of the thumbnails below. If you would like to see how any of them were made, scroll down and click on the cake you want and it will take you to a description of how the cake was made.
Easy instructions for making this dinosaur cake:
Bake a sheet cake the size that you need. Make buttercream icing. Draw the dinosaur on the cake using an icing filled bag and round tip, size #5.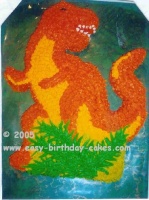 Related Cakes
Cut away the cake from the outline of the dinosaur. Piece the tail onto the dinosaur using the extra cake pieces that you cut away from the dinosaur outline.
Make yellow icing. Using star tip, size #18, fill in the yellow areas of the dinosaur.

Next, make orange icing. Using star tip, size #18, fill in the orange areas of the dinosaur.
The eye is piped on using round tip, size #5 and black icing. The teeth are made using star tip, size #16 and white icing and piping the tooth on, ending in a small point.
Next, make green icing for the ferns. Use a star tip, size #18 and make long strips ending in points for the ferns. Make the strips on each side of the fern leaf. Use the same green icing and round tip, size #5 to pipe the centerline on the fern leafs (refer to the picture.)
Need Party Favors?
Try these Dinosaur Candy Wrappers that can be personalized to say Happy Birthday to the birthday boy or girl. Kids love getting these as favors and so do the adults.
Share Your Dinosaur Cakes
If you have made a dinosaur cake that you would like to share, please submit your cake here and let us know how you made it! We would love to feature your cake on our site. Please make sure to include a photo of your cake and a description of how you made it, so that we can all share ideas and learn from each other!
See Dinosaur Cakes That Were Submitted By Others To This Site!
Click below to see other dinosaur birthday cakes from other visitors to this page...

Other pages you don't want to miss!
Free Newsletter
Sign up for our free newsletter "The Icing on the Cake"