Garfield and Odie Cake - An Easy Cake to Make
Directions for making this Garfield and Odie cake:
Bake a sheet cake the size that you need. Place the cake on the cake board. With icing filled bag and round tip #5 draw Garfield and Odie on the cake top , or if you prefer use the parchment paper transfer method.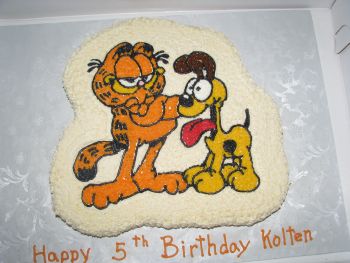 Now cut the cake away from Garfield and Odie leaving an inch or so border from their shapes. You will be using the round tip #5 to do all the outline work and the star tip #16 to do all the fill in work. Outline the entire shapes of Garfield and Odie.
Related Cakes
Using the same black icing fill in all the black areas on Garfield, his ears tail and eyes. Also all the black areas on Odie, nose, mouth, spot and tail. Make a light yellow icing and fill in Garfield's mustache and Odie's body.
Fill in Garfield's body with an orange icing. Fill in Odie's ears with brown icing and his tongue with red icing.
Next fill in the rest of the top and sides with white or ivory icing.Note: Do not forget to put the black dot in Odie's eyes.
Share Your Garfield Cakes
If you have made a Garfield cake for a birthday or other occasion that you would like to share, please submit your cake here and let us know how you made it! We would love to feature your cake on our site. Please make sure to include a photo of your cake and a description of how you made it, so that we can all share ideas and learn from each other!
See Garfield Cakes That Were Submitted By Others To This Site!
Click below to see other Garfield birthday cakes from other visitors to this page...

Garfield Cake






I made this Garfield cake using a Wilton Garfield Cake Pan and Face Plate. I made my oldest son his favorite character. First thing I did for this cake …
Free Newsletter
Sign up for our free newsletter "The Icing on the Cake"