How to Make a Horse Cake

Easy instructions for making this horse cake:
Bake a sheet cake the size that you need. With an icing filled bag and round tip, size #5, draw the horse head on the sheet cake. Cut out the shape. Use the picture below for reference.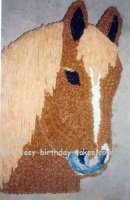 Make buttercream icing. Using star tip, size #18, cover the nose area with white icing. Add a little black to the edge of the white. With a small cake spatula, blend and smooth the nose area. Add a touch of pink icing on the nose and blend in.

Related Cakes
Make a medium brown icing and cover the rest of the entire cake using the same size star tip.
Make a light tan icing for the horse's mane. Use star tip, size #18 and make the long strips of hair from the top edge of the cake, down onto the horse's head.
Using round tip, size #5, outline the ears and face in the same brown colored icing used to cover the horse. Outline the eye using black icing and the same size round tip.
Finally do the eyelashes in light tan icing and round tip, size #3.
You don't want to miss these other great pages!
Share Your Horse Cake
If you have made a horse cake for a birthday or other occasion that you would like to share, please submit your cake here and let us know how you made it! We would love to feature your cake on our site. Please make sure to include a photo of your cake and a description of how you made it, so that we can all share ideas and learn from each other!
See Horse Cakes That Were Submitted By Others To This Site!
Click below to see other horse birthday cakes from other visitors to this page...

Bronco Cake






It is an ice cream cake decorated with buttercream icing. I drew the logo on the cake myself.
She's a Champion Horse Cake






I made this horse cake for my daughter's 12th birthday which was on Thanksgiving day! So in the mix of cooking Thanksgiving dinner, I had to come up with …
Jenn's Horse Cake






This horse was for my daughters' best friend. She hasn't seen it yet! She and my daughter both love horses and go to the ranch on weekends. This is …
Free Newsletter
Sign up for our free newsletter "The Icing on the Cake"