How to Make This Pirate Birthday Cake
Easy directions for making a pirate birthday cake:
Bake a sheet cake the size that you need. With an icing filled bag and round tip, size #5, draw the pirate on the top of the cake.
Cut the cake away from the pirate outline.
Use star tip, size #18 to do all of the fill in work and round tip, size #5 to do any outline work.
With white icing, fill in the white skull and crossbones and the white strip on the pirate's hat. Also fill in the round eye and teeth.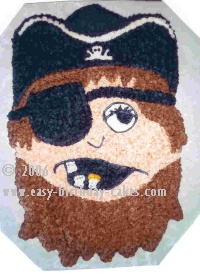 Fill in the hair and beard with brown icing.
Related Cakes
Fill in the face using a flesh colored icing made using a tiny bit of yellow and red paste food coloring.
Next make black icing and fill in the hat, the eye and the eye patch and band and the inside of the mouth.
Change the star tip to a round tip and outline the mouth, nose and eye making a curved line for the eyelid and the eyelashes.
Finally, make a small amount of yellow gold icing and use round tip, size #5 and put gold on the top of the tooth.
See more
pirate cakes
.
Free Newsletter
Sign up for our free newsletter "The Icing on the Cake"