Make Pirate Cakes
Easy instructions for making Pirate Cakes:
Bake a sheet cake the size that you need.
Ice the cake in white or ivory buttercream icing using a cake spatula and making sure the surface is smooth. Let it set about 15 minutes.
With the star tip, size #32 and icing make a shell border on the top and bottom edges of the sides of the cake.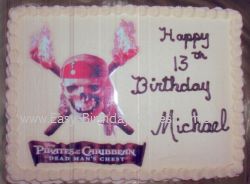 I then took a picture of the skull and torches with my digital camera and enlarged it to the size I needed.
Related Cakes
I then printed it out, cut it out and laminated it on both sides and then cut it out again leaving a tiny laminated edge all the way around.
Now just lay it on the top of the cake. Use dark brown icing and write your message on the cake top.
See another
pirate cake
.
Free Newsletter
Sign up for our free newsletter "The Icing on the Cake"