Make This Pirate Cake
Easy instructions for making a Pirate Cake:
Bake a sheet cake the size you will need. Draw on the cake using an icing filled bag with a round tip #5 using the above picture as your guide. (If you mess up, you can just scrape it off and do it again until you are satisfied with your shape.)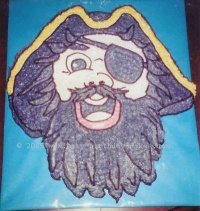 Related Cakes
Cut away the outline so you have the pirate's shape. Cover hat rim in yellow icing using star tip #16 or #18. Fill in lip with red icing using the same size tip. Fill in hat, hair and eye patch with black icing using the same size tip.
Next, fill in the eye with white and black icing still using the same size tip. Fill in face with flesh colored icing (to get the flesh color, use a very small amount of red and orange coloring added to your white icing.)
Outline the hat, hair and face with black icing and round tip #5. Put touches of grey icing on strands of hair as shown on the above pirate cake.
See another
pirate birthday cake
.
Other pages you may like!
Share Your Pirate Cake!
If you have made a pirate cake that you would like to share, please submit your cake here and let us know how you made it! We would love to feature your cake on our site. Please make sure to include a photo of your cake and a description of how you made it, so that we can all share ideas and learn from each other!
See Pirate Cakes That Were Submitted By Others To This Site!
Click below to see other pirate cakes from other visitors to this page...

Damien's Pirate Ship Cake






I used the pirate ship cake pan and buttercreme icing.
Priate Ship Cake






To make this pirate ship cake, bake three 1/4 sheet cakes or size needed. Stack all three cakes with icing, making sure to use dowels for support. I placed …
Pirate Treasure Cake






To make this pirate treasure cake, I used a sheet cake and frosted the entire cake with white butter cream, on the diagonal I applied crushed Nilla wafer …
Cap'n Robert's Pirate Ship Cake






For this pirate ship cake, I made 2- 9x13 sheet cakes. I cut one into about thirds (cut short length when cake is horizontal). Two pieces were about an …
Pirate Larry Cake






To make this pirate cake, I made a confetti cake with two layers in square pans that were eight inches. I made one round strawberry cake with a six inch …
Pirate Cake






I used two round cake pans, size 6, then crumb coated it with butter cream and put a cream cheese filling in the middle first. I used fondant in tan color …
Free Newsletter
Sign up for our free newsletter "The Icing on the Cake"