How to Make a Guitar Cake
Easy instructions for making this guitar cake:
This cake was forty inches long. The body of the guitar was cut from a large sheet cake. The neck of the guitar was from a 9 x 13 cake cut in half lengthwise. If you do not need a cake this big, just make a smaller cake. The following instructions are still the same.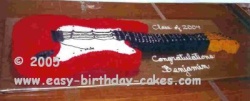 Related Cakes
With an icing filled bag, and round tip size #5, draw a guitar on the cake. Cut the cake away to get the guitar shape making sure wherever you use the pieces as part of the shape, you use icing to hold it together.

Cover the white area of the guitar using white icing and star tip #18.
Next, cover the black area using black icing and the same size star tip.
Cover the tip of the neck with deep yellow and the same size star tip.
Fill in the body of the guitar with red icing and the same size star tip.
The strings are piped on using black icing and round tip size #5. I used a yard stick to lightly mark where the string lines would go.
Finally, write your message on the board with white icing and round tip #5.
Also see these other great pages!
Share Your Guitar Cake!
If you have made a guitar birthday cake that you would like to share, please submit your cake here and let us know how you made it! We would love to feature your cake on our site. Please make sure to include a photo of your cake and a description of how you made it, so that we can all share ideas and learn from each other!
See Guitar Cakes That Were Submitted By Others To This Site!
Click below to see other guitar themed birthday cakes from other visitors to this page...

Free Newsletter
Sign up for our free newsletter "The Icing on the Cake"