How to Make a Monster Truck Birthday Cake
Easy directions for making a monster truck birthday cake:
Bake a 9 x 13 cake and two 8-inch cakes. The two 8 inch cakes are going to be the wheels.
With an icing filled bag and round tip, size #5, draw the truck body and under carriage on the 9 x 13 cake. Cut the cake away from the truck drawing using the cut pieces to form the front and back extended bumpers.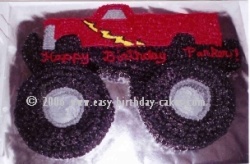 Note: When cutting the under carriage make sure you cut the curve in for the wheels so that the tires fit in.
Make a gray colored icing and using star tip, size #18, fill in the window and front grill and bumper.
Related Cakes
Next fill in the lightning streak with a bright yellow icing and the same size star tip.
Now, make a red icing and use star tip, size #18 to fill in the body of the truck.
Make black icing and using star tip, #18, cover the undercarriage of the truck.
Now take the 8-inch layer cake one at a time and slice them horizontally the top of the circle you are going to cut out a four in round circle from the center of the circle.
Spread gray icing on the bottom circle and then place the top circle with the four-inch circle cut out of it on the top of the bottom circle.
Do the second eight-inch layer in the same manner.
With the gray icing and star tip, size #18, cover the sides of the inner circle. See the picture of the monster truck birthday cake to see how this is done.
Take your black icing and cover the rest of the tires using star tip, size #18.
Now use your red icing and round tip, size #5 and write the message across the undercarriage of the truck.
Share Your Monster Truck Cakes
If you have made a monster truck cake that you would like to share, please submit your cake here and let us know how you made it! We would love to feature your cake on our site. Please make sure to include a photo of your cake and a description of how you made it, so that we can all share ideas and learn from each other!
See Monster Truck Cakes That Were Submitted By Others To This Site!
Click below to see other monter truck birthday cakes from other visitors to this page...

Free Newsletter
Sign up for our free newsletter "The Icing on the Cake"