Make This Star Wars Cake
Easy instructions for making a Star Wars Cake:
Bake a sheet cake the size that you need. Draw Darth Vader on the cake using a #5 round tip and icing (see picture below for how to draw the outline of Darth Vader on the cake). If you make a mistake while drawing the outline, just scrape off the icing and start again. Cut away the cake outside of the outline.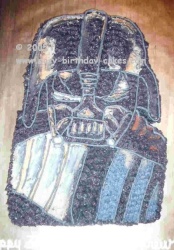 Related Cakes
Using the picture as a guide line, cover areas in different colored icings using star tip #18. Use black icing for the helmet with cream colored and white icing as the shading. Use black icing and medium brown icing as the shading for the shoulder. The chest is medium dark grey icing on one side with cream shading at top of stripes. The other side is white icing with grey icing for shading and with cream icing in between.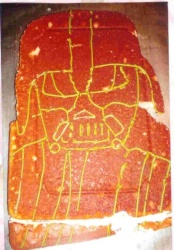 Using a small icing spatula, shaded areas can be softly blended together where they meet. This gives the cake more dimension.
Here is another Star Wars Birthday Cake.
Share Your Star Wars Cake
If you have made a Star Wars cake that you would like to share, please submit your cake here and let us know how you made it! We would love to feature your cake on our site. Please make sure to include a photo of your cake and a description of how you made it, so that we can all share ideas and learn from each other!
See Star Wars Cakes That Were Submitted By Others To This Site!
Click below to see other Star Wars birthday cakes from other visitors to this page...

Star Wars Characters Cakes






For these Darth Vader, Chewbacca, Stormtrooper and C-3PO cakes, I Made 4 8" Rounds....used colored fondant and cut and covered the cakes using photos of …
Star Wars Light Saber Cake






For this Star Wars light saber cake, the bottom is yellow cake the saber handle is pound cake covered in fondant. The saber itself is real, I cut it out …
Star Wars Sheet Cake






For this Star Wars cake, I baked two 9x13 yellow sheet cakes and then frosted them together with vanilla buttercream to make one large sheet cake. I used …
R2D2 Birthday Cake






I made this R2D2 cake for my sons birthday. I have two boys and I always try to make something special for their birthdays. They like my homemade cakes …
Star Wars X-wing Fighter Cake






I made this Star Wars cake for my son's fifth birthday. I baked one box cake mix in a 9x13 inch pan and in a mini bread loaf pan. After letting it cool …
Kevin's X-Wing Fighter Cake Not rated yet
To make this X-Wing Fighter cake, I used Wilton's recipe for a yellow cake (can be found on their website) and baked an 11 X 15, 2" high cake. I used …
Free Newsletter
Sign up for our free newsletter "The Icing on the Cake"